Robert Nordberg
Podcaster/Producer, Website Guy, and Occasional Writer
Favorite Comic: Y the Last Man
I've been reading comics since I was about ten years old and what started as a childhood hobby eventually became a lifelong passion. I'm definitely a Marvel guy at heart, but I like to read everything I can and lately it seems Image has been owning my stack. I met Paul in College where we both were studying Film and we realized we both had a huge passion for comics. Ever since then we've wanted to do a show together, and after many minor attempts at making something we finally got this site up and running and our weekly show 'Wednesday'. I currently work as a Videographer and Audio/Video technician and spend way too much time playing Magic the Gathering.
Will Carey
Contributor
Current Comic Obsessions: Anything X-Men (Extraordinary, Uncanny, or New), Moon Knight, Batman, Spider-Man/Deadpool Team Up
I was indoctrinated into comics and nerdery at a young age thanks to my Father and Uncle sharing their vast collections with me. Since then it has grown in varying degrees to include, but not limited to: Anime, Magic: The Gathering, Video Games, Movies, and Fantasy Books. My current obsession is all things Marvel Cinematic Universe, DC Television Universe, and the DC Cinematic Universe.
Paul Outlaw-Lyons
Podcaster/Writer/Nerd
Favorite Comic: Batman, Captain America, Ex Machina
There were no comic books store where I grew up. If I could get my hands on them the'd be at the local grocery store where I would only get 1% of the mega saga that ran across Marvel and DC. I had no idea that this would shape into the insane "adult" that I am today. I am constantly looking for the full story for both the comics and the people writing and reading them. Thankfully I met a kindred spirit in Rob while at Suffolk university where we filmed 'We Got Issues' since then the mission has been the same and lives on with fellow kindred spirits: Will, Mark, Chandler and my wife Angela.
Angela Outlaw-Lyons
Contributor, Professional Nerd
Favorite Comic(s): Sandman, Yostuba, Berserk
I was fortunate enough to have grown up in a nerd household. Star Trek and comics were the norm so the concept of my passions being a negative were simply unheard of at home. I stumbled into the Industry and spent nearly a decade behind the counter at Comicopia in Boston. Being a bi-racial woman and super weirdo has defiantly molded a unique perspective on the trade.
Morgana Santilli
Contributor, Valkyrie, Manga Maven
Favorite Comic(s): Yu Yu Hakusho (Yoshihiro Togashi), Kitaro (Shigeru Mizuki), Uzumaki (Junji Ito)
I grew up during the Great Manga Explosion, so anime and manga have been a huge facet of my life since I was very small. I received my first manga, Pretty Guardian Sailor Moon, at the age of 8, and I haven't stopped collecting since! While manga is my primary focus, now that I work in a comic book store I have much larger exposure to comics of all kinds, and I've been able to take part in a vibrant and creative community.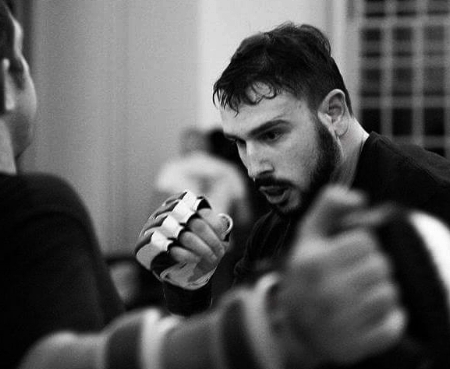 Jay Philips
Podcaster, Self Proclaimed Anime Expert
Favorite Manga/Anime: Franken Fran, Berserk, Hajime No Ippo, Hunter X Hunter, Bakemonogatari, FLCL, Type Moon Franchise, Redline, Anything Studio Ghibli
Always loved super hero cartoons growing up whether it be the DC or Marvel both franchise had a strong cartoon game in my youth. Years later on there was a transition to more anime related things I would watch on Toonami and eventually finding AdultSwim shows. Once discovering there were more animated shows I could watch on the internet it was basically a whole new world for me. Still have a love for comic books and the characters written in them, but my passion definitely resides with anime/manga.